The construction of the new winery began in April 2009 and the first elaboration was done in March/April 2010. The winery's tourist sector was completed and opened to the public on April 16, 2011.
The winery consists of two main wings: production and storage. It also has an administrative office, a visitor reception center and a tasting room with two terraces, one facing East and the vineyards and the other one west, facing the Andes mountains. The total covered and semi-covered area is 1000 square meters.
The processing wing is equipped with the most advanced technology, reaching a total capacity of 120 m3 (120,000 liters). The stainless steel tanks have cooling and heating jackets. The storage wing contains French and American oak barrels where the wines complete their elaboration to become Reserves. All this area has rigorously controlled temperature conditions.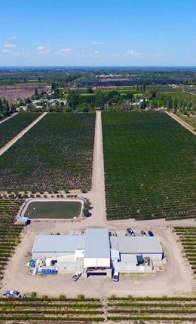 MEVI is an agro-industrial venture founded by two business friends: Oscar Vignart and Rolando Meninato in 1991 to produce high quality grapes and wines.
In 2005 Mevi buys a new vineyard in Maipú. This vineyard is located in one of the best areas of Mendoza for its climate, with daily variation temperatures of 15°C, irrigated with water from the Andes and a clay soil with abundant gravel.
We launched our first vintage on the market in 2002 and since then its main destination has been export. The wines are made mainly with grapes from our vineyard, all selected by our winemaker, offering you the line of wines that are marketed under the MEVI label.